Acne Skin Treatments in Ottawa
Trust in us to change the way you see your skin.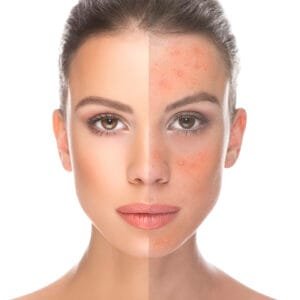 Many think of acne as a persistent skin condition amongst adolescents, causing them to feel uncomfortable or self-conscious. The reality is that acne is equally common among pre-teens and young adults. If you're one of the millions of people in the world suffering from acne, then you're well aware of how big a hurdle it can be to overcome, especially when it comes to your own self-esteem. The good news is that with the experts at Dermis, you can overcome this common problem, leaving you feeling confident and comfortable in your own skin.
Acne is often characterized by pimples, cysts, oily skin, blackheads, and whiteheads. These developments are the result of sebum clogging hair follicles. Sebum is made up of accumulated fatty oils secreted by the skin, dead skin cells, and dirt. While pimples, blackheads, and whiteheads are common in healthy skin, hormones, bacteria, stress, cosmetics, and skin care products can all exacerbate these common issues and turn them into full-blown acne. Acne isn't just limited to the face; it can show up on your back, shoulders, neck, chest, and even your arms. If it's severe enough, acne can even leave permanent scarring on your skin.
Depending on the severity of your acne, we will help you find an appropriate treatment that will get you the results you want. Basic treatments focus on removing what is plugging the duct of the gland in question and, if necessary, killing the acne bacteria. This is done either through the application of a product to the skin, through internal medication, or through the use of a cosmetic procedure that will clear the skin and eliminate the bacteria in question.
Acne Treatments Ottawa
Our Acne Treatments Are Available For All Ages.
NEW!

Carbon Laser Peel

$325

Five times more effective than chemical peels, this facial treatment is fast, safe, has minimal downtime, and is suitable for all skin types. Combining Lutronic's Spectra dual-mode laser technology with medically activated carbon, the treatment removes damaged outer layers of skin and stimulates the production of collagen in underlying layers, all while minimizing skin pores. This procedure is also an excellent purifying process for deep cleaning and is very effective at controlling sebaceous secretion, inflammation, and acne. This treatment can be used on active acne.
TriFractional Resurfacing Treatment 
$350
As a leading Ottawa skin care clinic, we are proud to be equipped with trusted TriFractional Technology by Pollogen®. This non-invasive, state-of-the-art treatment dramatically improves the look of acne-scarred skin by making use of three pulse fractional technology to safely and effectively resurface your skin, with minimal discomfort and downtime. The TriFractional Radio Frequency Energy penetrates deep into the tissue of the target area, creating micro wounds that trigger the body's natural healing processes. Please note – This does not treat active acne; it helps with acne-scarred skin.
Microdermabrasion
 $130
This non-invasive, zero downtime procedure is used to resurface the skin. The uppermost, superficial layers of dead skin are gently exfoliated with a controlled flow of crystals. Microdermabrasion stimulates cell and collagen productions, reducing the appearance of large pores; additionally, oil, dirt dead cells, and bacteria are removed, leaving the skin healthier and free of acne bacteria. Please note – This does not treat active acne; it helps with acne-scarred skin.
Chemical Peel 
$175
We offer Alumier MD chemical peels to improve skin's texture and tone through the exfoliation of skin cells. This line of Health Canada-approved chemical peels offer solutions to aging, acneic or pigmented skin and are performed by trained skin care professionals who work with clients to create a personalized program to achieve desired results. Clients are provided with a post-treatment kit to help heal and soothe the skin while maintaining optimal results.
Puractive Oxygenating Treatment 
$150
Using an exclusive Oxygen Complex, patented anti-microbial peptides, and Probiotic* actives, this GM Collin® treatment absorbs excessive sebum and regulates overactive sebaceous gland activity. Additionally, it increases natural cellular oxygenation and detoxifies for clear and even complexion while hydrating and refining texture.
This treatment is clinically proven, and can:
Reduce sebum production by 47%**
Reduce enlarged pores by 39%**
Improve hydration by 40%**
* Consists of a group of microbial organisms which favor the beneficial bacteria in the body while inhibiting harmful microbes like acne bacterium.
**After 28 days of Home Care regime